Between November 29, 1932 and January 3, 1933, in Beauraing, Belgium, the Blessed Virgin appeared to a group of five children thirty-two times. The five children came from the Voisin and Degeimbre families: Albert, Gilberte, and Fernande Voisin (ages 9, 13 and 15) and Andree and Gilberte Degeimbre (ages 14 and 9). The children saw the figure of a "lady dressed in white with clouds at her feet." The apparitions occurred above a hawthorn tree in a grotto between a local viaduct and convent. No adult could see or hear the Virgin, and most were skeptical even when the children simultaneously kneeled and recited Hail Mary.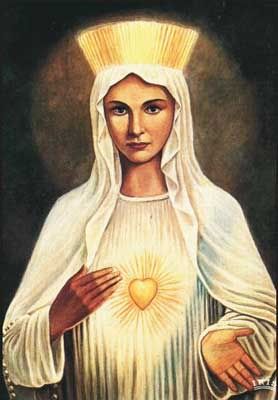 During the course of the apparitions, the children witnessed the Blessed Virgin's "heart of gold"-- a golden heart shining through her robe, with golden rays of light emanating from within. The message of Mary during her visits focused on prayer, penance, and conversion.
January first marks the next to the last apparition of the Blessed Mary to the children. During that visit, Mary spoke to Gilberte Voisin, asking her to, "Pray always," with the emphasis on always.
Today, we ask for the intercession of the Our Lady of Beauraing's golden heart as we pray for peace.