Saint Sebastian
(died 288), Martyr of the early Church. While most of the historical facts of the life of Saint Sebastian are lost, holy legend tells us of his endurance and bravery in the face of martyrdom. One of the most frequently depicted saints in Church art and iconography throughout the history of the Church, Saint Sebastian has inspired countless faithful to live their lives for the Lord!
Golden Legend
:
"Diocletian had him bound to the medium of a plain and ordered to the archers that one bored him with blows of arrows. He was covered so much with it, that he appeared to be like a hedgehog; when it was believed dead."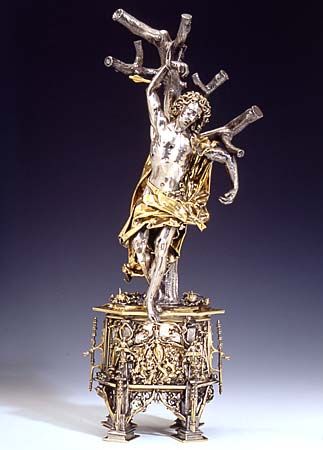 Reliquery of Saint Sebastian
Lord, fill us with that spirit of courage which gave your martyr Sebastian strength to offer his life in faithful witness. Help us to learn from him to cherish your law and to obey you rather than men. We ask this through our Lord Jesus Christ, your Son, who lives and reigns with you and the Holy Spirit, one God, for ever and ever. Amen.
Iconography of Saint Sebastian:
Year 2:

Day 20 of 365
Prayer Intentions: Faithful physical endurance and energetic spreading of the faith!
Requested Intentions: For an RCIA candidate struggling with financial and family stressors (O); Freedom from anxiety regarding medical procedure (J); Return home of an ill mother, peace and financial security (J); Restoration of a marriage; family peace (N); Freedom from persecution (A); For a friend struggling with medical problems and surgery (L); Financial blessings (D); For the success of a project (T); Improved financial stability (A); Improved relationship with business partner (A); For employment (N); Reconciliation of a workplace relationship (R); Healing of son, cousin, and friend (L); Healing of a husband from cancer, end to medical problems (T); Freedom from persecution (E); Successful employment (R); Reconciliation of a marriage (M); Successful marriage, employment, healing (J); For a family struggling with a difficult situation (M); For family intentions (I); Reconciliation of a marriage (S); For blessings upon a family (R); Permanent employment (N); Successful employment (M); Healing of a father following stroke (S).