Today, February 28, we celebrate the feast of two holy men and women:
Blessed Daniel Brottier
(1876-1936) and
Blessed Villana de'Botti
(1332-1361). While from very different times and places, both Blessed Daniel and Villana answered the call of the Lord in their own way, through repentance and service, courage and sacrifice.
Blessed Daniel Brottier
(1876-1936) was born in France to a devout family, and earnestly felt the call of the Lord to the religious life. He was ordained in 1899, and began his career as a professor, teaching at the college of Pontlevov. While he loved his work, interacting with students, he felt strongly called to missionary work, and at the age of 26, entered the Order of the Congregation of the Holy Ghost. Located in Orly, France, this missionary Order sent priests and religious throughout the world.
The following year, Daniel was sent to Senegal, West Africa, where he remained for eight years, preaching among the native people. While in Africa his health suffered, eventually forcing him to return to Europe. Upon his return, he was commissioned to chair the fund-raising campaign to build a cathedral in Dakar, Senegal, as well as to support the on-going missionary work in that portion of the world. Blessed Daniel engaged in this task with zeal, honoring the Africans who had died fighting for France, and the French who had died fighting for Africa. His campaign—built on equality and respect between races—was successful, and the cathedral was built. It was consecrated only weeks before his death in 1936.
When World War I broke out, Daniel immediately volunteered as a chaplain for the French forces, and spent four years on the front lines of horrific battles. Risking his life repeatedly, he ministered to the suffering and dying on the battlefields, miraculously escaping injury himself. For his bravery, he was cited six times, receiving the Croix de Guerre and the Legion of Honour. Blessed Daniel attributed his survival to the intercession of saint Therese of Lisieux, and built a chapel in her honor at the conclusion of the war in Auteuil, France. There, he assumed administrative responsibilities of the Orphan Apprentices of Auteuil—a project established to provide for orphaned and abandoned children. There, he spent the remaining thirteen years of his life, and was buried.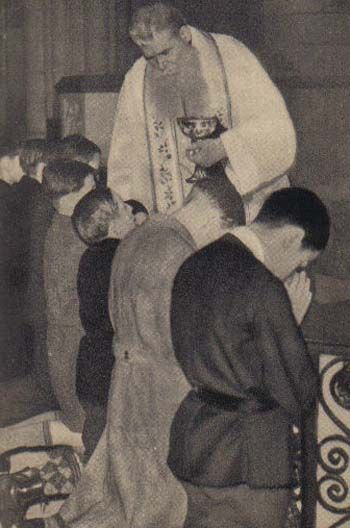 Blessed Daniel is remembered for saying:
"My secret is this: help yourself and heaven will help you. ... I have no other secret. If the good God worked miracles, through Thérèse's intercession, I think I can say in all justice that we did everything, humanly speaking, to be deserving, and that they were the divine reward of our work, prayers and trust in providence."
Blessed Villana de'Botti
(1332-1361) was born to a pious merchant in Florence, Italy. Extremely drawn to the religious life, Villana ran away from home at the young age of 13 to join a convent. Without her family's approval, she was refused admission, and returned home. Hoping to prevent future similar incidents, her father arranged for her to be married, which she obediently did.
Following her marriage, Villana gave up her pious manner, embracing the pleasures of the world, and living an idle and lazy life. One day as she was getting dressed for social entertainment, clad in a gorgeous dress adorned with pearls and precious stones, she looked at herself in a mirror. To her horror, the reflection that met her eyes was that of a hideous demon. A second and a third mirror showed the same ugly form. Thoroughly alarmed and recognizing in the reflection the image of her sin-stained soul, she tore off her fine attire and, clad in the simplest clothes she could find, ran weeping to the Dominican Fathers at Santa Maria Novella to make a full confession and to request absolution and help.
This glimpse in the mirror of her sins proved to be the turning point of Blessed Villana's life. From that moment on, she embraced a life of piety, charity, and good works, and never strayed again from the Lord. Villana entered the Third Order of Saint Dominic, and rapidly advanced in the spiritual life. She concentrated on her vocation of married life, and spent her free time praying and reading Scripture and the lives of the saints. Her desire to atone for her earlier life sometimes overwhelmed her, and her husband and family had to stop her begging door to door and doing other penances. She was given to religious ecstasies at Mass, but became the object of much ridicule and slander. Her health suffered, but she received visions of Our Lady and the saints, and had the gift of prophecy. Even her fiercest opponents eventually came to see her as a living saint.
As she lay on her deathbed, she asked that the Passion should be read to her, and at the words "He bowed His head and gave up the ghost," she crossed her hands on her chest and passed away. Her body was taken to Santa Maria Novella, where it became such an object of veneration that for over a month it was impossible to proceed with the funeral. People struggled to obtain shreds of her clothing, and she was honored as a saint from the day of her death.
O God, our merciful Father, you called Blessed Villana back from the emptiness of the world and aroused in her a spirit of humility and true penitence. Recreate in our hearts the power of your love and, filled by that same spirit, may we serve you in newness of life. We ask this through our Lord Jesus Christ, your Son, who lives and reigns with you and the Holy Spirit, one God, for ever and ever.

Tomb of

Blessed Villana de'Botti

Both Blessed Daniel's and Villana's lives reveal to us our directive to listen for, and answer the call of Our Heavenly Father. We are called to lives of courage, devotion, charity, and obedience. We are called throughout our lives, and as Blessed Villana teaches us, it is never too late to answer. We pray today for the strength and courage to answer our personal call!
Year 2: Day 59 of 365
Prayer Intentions: The courage to answer the call of the Lord
Requested Intentions: Freedom from medical difficulties, employment, successful relationship (D); End to suffering for sick brother; reconciliation of estranged family (E); End to husband's addiction; Improved relationship; strength (M); Successful God-centered marriage; Sacramental life (M); Healing, successful relationship (S); For successful marriage (A); For a husband's freedom from addiction (C); Freedom from pain and illness for a friend (M); Financial freedom (J); Successful passing of occupational examination (S); Healing and conversion, sale of house (L); Occupational success for employee and colleagues (J); Employment for a son (C); Successful attainment of an important appointed position (J); Recovery from cancer for a friend (Z); For a family's freedom from sin (M); For a daughter with Diabetes (A); Healing of a father following stroke (S).