It is there in the story of Cuthman, the working together
Of man and God like root and sky; the son
Of a Cornish shepherd, Cuthman, the boy with a cart,
The boy we saw trudging the sheep-tracks with his mother
Mile upon mile over five counties; one
Fixed purpose biting his heels and lifting his heart.
We saw him; we saw him with a grass in his mouth, chewing
And traveling. We saw him building at last
A church among whortleberries…
(Christopher Fry)
Today, February 8, we celebrate the feast of
Saint Cuthman of Steyning
(died, ninth century), English church builder and miracle worker. The life of Saint Cuthman is one of holy legend, recounting his various exploits made possible only through the grace of God. Regardless of the veracity of these legends, what we take from the life of Saint Cuthman is a profound respect and love for his mother, a dedicated service to the Lord, and unwavering faith—all lessons we can apply to our own lives today.
"Men mock and heaven shall weep!"
at which a rainstorm flooded their fields and destroyed their crops. It is said that every spring these same fields are flooded.
Father Almighty, you have brought my wanderings to an end; now enable me to begin this work. For who am I, Lord, that I should build a house to your Name? If I rely on myself, it will be of no avail, but it is you who will assist me. You have given me the desire to be a builder; make up for my lack of skill, and bring the work of building this holy house to its completion.
The stone of Saint Cuthman
The wooden church built by Saint Cuthman was built in the spot of the more modern Saint Andrew's Church in Steyning,, Sussex. Together with his mother, he lived in a small hut nearby while his days were spent building a cathedral as promised to the Lord. Saint Cuthman used the pagan stone in the alter of his church, to assure that local pagans would come to venerate there, leading to their conversion. (The stone was later removed during excavations and placed outside the church of Saint Andrew).
" Nothing is wanting to those that fear the Lord."
Saint Cuthman, overcome with awe, asked for the stranger's name.
" I am He,"
was the answer,
"in whose name thou buildest this temple."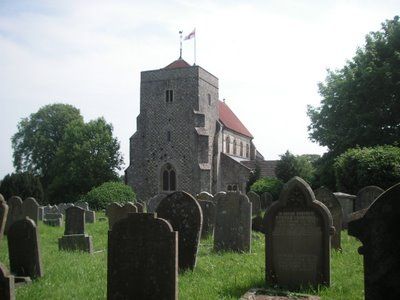 The Church of Saint Andrew,
located on the site of Saint Cuthman's Church
Saint Cuthman lived beside his church, building a robust Christian community. Upon his death, he was venerated there, with many pilgrims reporting miraculous cures at his holy intercession. His relics were later translated to the Benedictine monastery at FeCamp, France.
Year 2:

Day 39 of 365
Prayer Intentions: Piety, Prayer, Hard Work.
Requested Intentions: Assistance with a legal matter, financial freedom (R); Healing for a friend (M); For a son in medical school (H); Financial assistance (M); Successful employment (N): Freedom from mental illness for a friend (L); For successful marriage (N); For friends having and recovering from surgery; for the reduction of a brain tumor (L); For resolution of a housing crisis (P); For a brother who is struggling financially, for a son who is struggling academically (B); For financial security for a friend (C); Success in business; familial happiness and health (J); Health and recovery of a sister (I); Development of a chaste relationship pleasing to the Lord (E); Successful surgery of mother; delivery of daughters' babies (L); For a friend suffering with depression (M); For a friend entering religious life (R); Success of a parish men's retreat (H); For a mother who is grieving; for the soul of a dearly departed son (M); Reconciliation of a marriage (M); End to grief after death of son (B&C); End to grief (S); Successful marriage (N); For an RCIA candidate struggling with financial and family stressors (O); Freedom from anxiety regarding medical procedure (J); Return home of an ill mother, peace and financial security (J); Healing of a father following stroke (S).