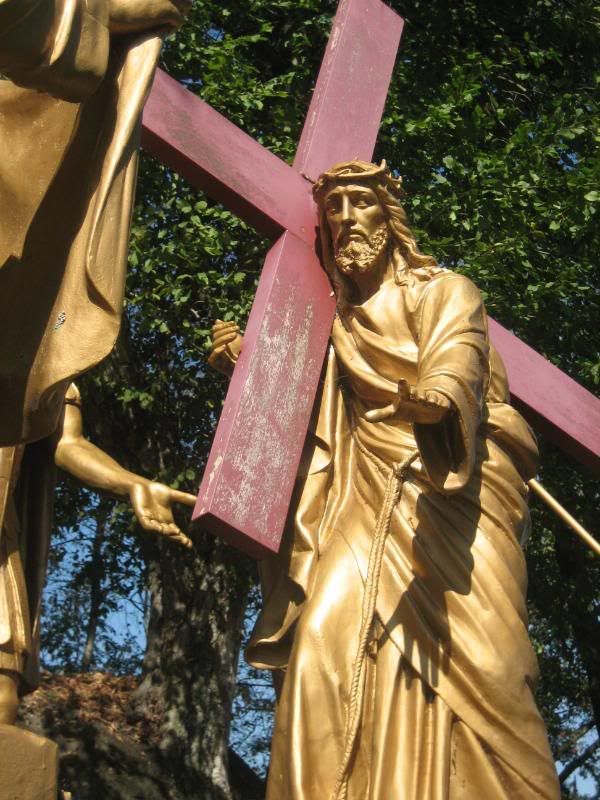 In Lourdes, pilgrims can participate in the meditations on the Way of the Cross by climbing a mile long path up the Espelugues Mountain, along which life-sized bronze figures mark each of the 15 Stations. At the top of the mountain is Calvary, representing the hill where Jesus drew His last breath. A sixteenth Station has been added, the stone rolled from the entrance of the tomb, with a plaque proclaiming, "He has risen as He said. Alleluia!"
To wander this mountain in solitude, praying and meditating on the final steps of Jesus, was a sorrowing experience. Each step brought me closer to the top of the mountain, and the knowledge of what scene would confront my eyes. Each step brought me closer to the understanding that Christ died because of my sin. And with that knowledge, each step up the mountain was harder to take.
The brutality of the crucifixion is brought to life in this moment, in seeing it "life-sized." While figures of metal, the humanity and pain sculpted into the faces of Jesus and the women he meets, the indifference and mockery on the faces of the soldiers are not soon forgotten. We identify with Jesus in our own pain, but we rarely think of ourselves like the Roman soldiers when he hurt, humiliate, or degrade others. Coming face to face with the gazes of the soldiers, one has to reconsider, one has to take stock.
The trip down the mountain is one of quicker steps, toward the placing of Jesus in the tomb, through the hopelessness and waiting of Holy Saturday, toward the empty tomb of Easter Morning. He has risen as He said. Alleluia!